Today was never going to be a cycling day after eating a ton of very tasty celebratory food and drinking a substantial amount of wine last night. I never expected I would be in a condition to ride, so I hit the sheets last night with the understanding I would not be waking up at 4am to head out for any amount of kilometers, despite my body excited to get on the tarmac for a workout. Instead, I opted for a couple extra hours of recovery sleep, and decided to use some of the cooler morning hours for a bit of limited bike maintenance and to swap out the older top tube bag for a newer, sexier, customized one.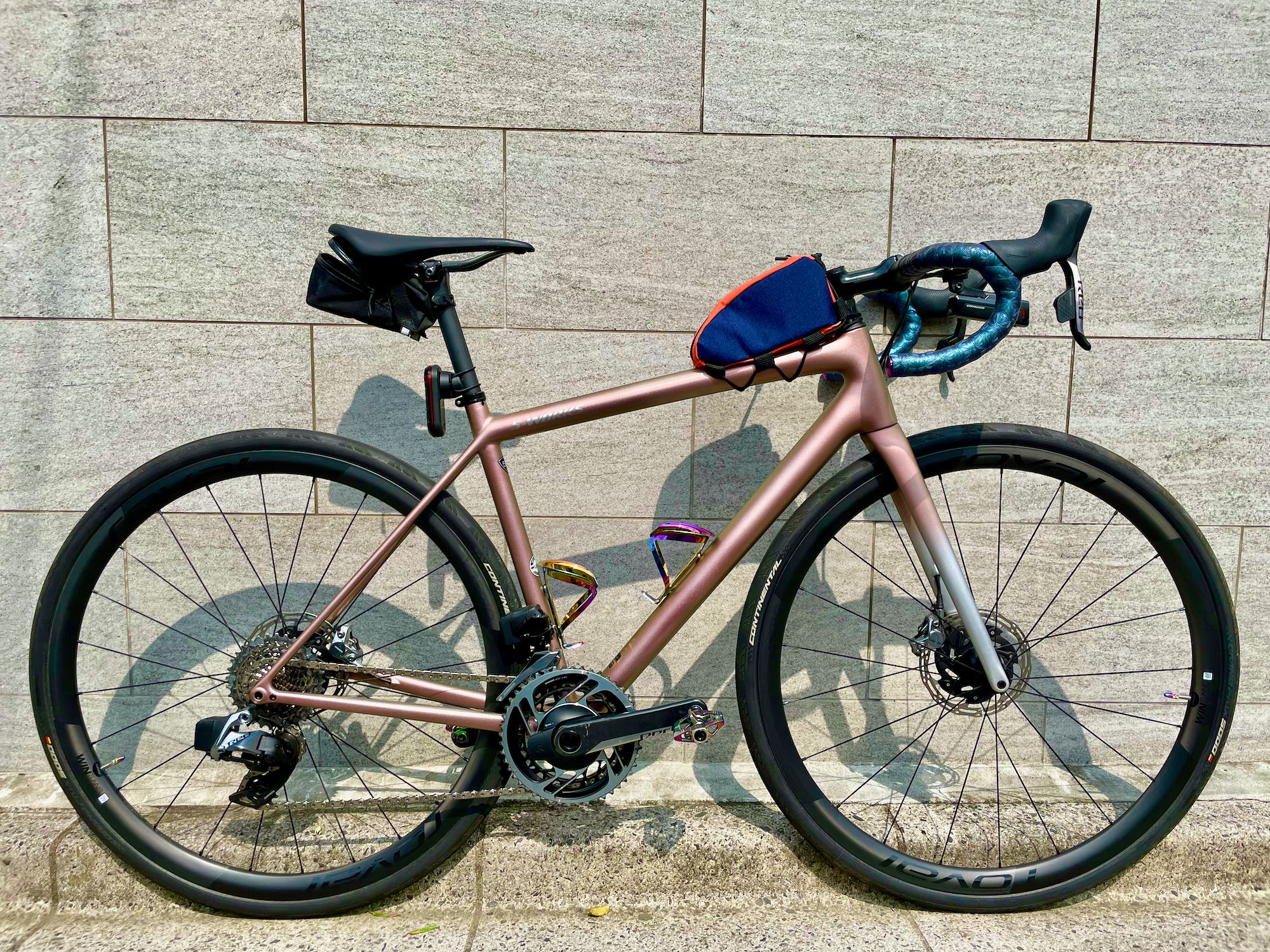 After a hearty breakfast and a nice cup of cappuccino I headed downstairs to the garage to perform a bit of standard maintenance on Red Chameleon. This was mostly composed of washing all the dirt off the frame, chain, wheels, and those hard to get areas where the grime sticks and will not just fall off on its own. I wiped down the entire bicycle a few times, checked the chain to ensure it is in good working condition – which it should be considering she is only about six weeks old. Upon completion, it was time to don Red Chameleon with her new top tube bag.
I have been in search for the perfect top tube bag since I picked up my Aethos from the Specialized shop. At first she was donned with an older black Rock Bros top tube bag. I found it to be too plain, and so I went on the prowl for something different. This led me to the TopPeak Toploader wrapped in green I had been using for the last four-ish weeks. Something even bothered me about this bag, in particular the color. The shade of green does not match well with the unique frame color Red Chameleon sports. Once again, I was on the hunt for that fabled, unicorn top tube bag.
After looking at a myriad of vendor web sites, I got this idea to give Etsy a try to see if the many talented people selling custom goods there had any cycling items. I ran into a lot of really interesting top tube bags, and found a couple purveyors who offered the ability to really customize your bag. It was with this that I ended up settling on Vpaintz Up-Cycling. They offer a perfectly sized top tube bag for sale, with the ability to select the type and color of the inner material, as well as the left, right, top-middle, and front of the bag. In short, it was a customization dream come true. I settled on the saiklr brand colors of blue and orange, hit "buy", and waited for the goods to arrive.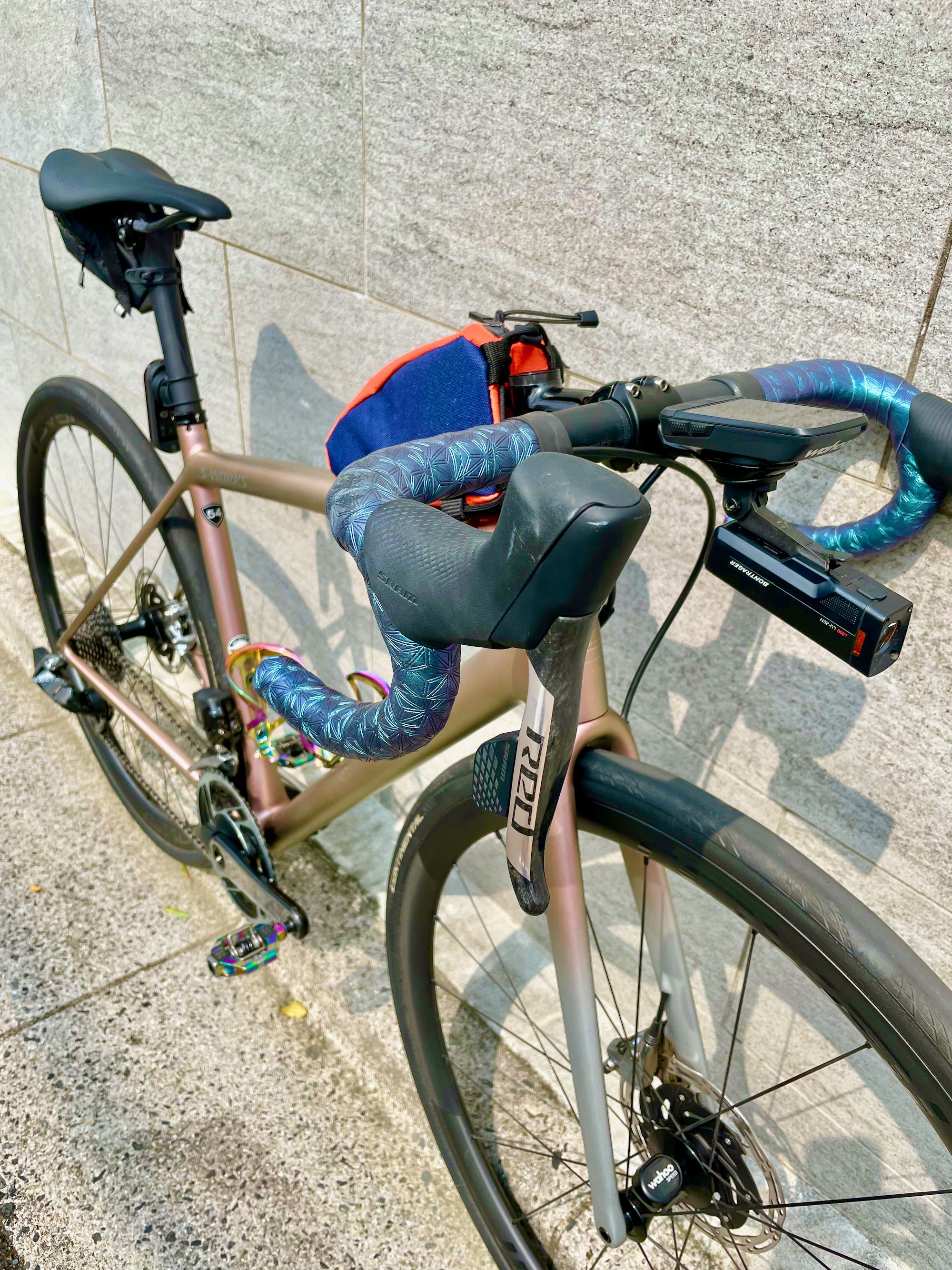 When I opened the box that arrived in the mail yesterday I was pleasantly surprised with the bag. It is exceedingly well crafted all around, and obvious there was love and care put into this product. Everything is tightly constructed, the materials feel wonderful, and it fit perfectly on Red Chameleon. Opting to forego the standard velcro straps you see on most top tube bags, Vpaintz chooses thin straps to be braided along the top tube and stem to hold the bag in place. I was able to securely fasten the bag in such a way that it does not move around at all.
I love the colors and the extra personality this bag adds to the bike. It is the perfect complement of the unique colorway of the S-Works Aethos, matching even the oil slick colored bar tape, pedals, and bottle cages. If I can now find a saddle bag with the same customization options, so it can be constructed to identically match the top tube bag, I will be living the proverbial dream.
Some additional commentary about the bag. As I said, it is the perfect size and I do not say that lightly. It fits my bicycling insurance policy, some emergency yen, a small cycling toolkit, tire levers, a couple gel packs, and my iPhone 12 Pro. There is still some room left for anything additional within reason I may need. Since I do not like to ride with a whole lot in my jersey pockets, this top tube bag is literally the consummate size for my taste.
If you are searching for a unique top tube bag, or anything cycling related for that matter, I encourage you to seek out some of the awesome sellers on Etsy. Thus far I have purchased this top tube bag and a cycling cap, and could not be happier with both products. Tomorrow's ride will be the real test, to see how the bag handles the speed, bumps, and imperfections in the road. I suspect all will be fine and I will have no complaints.
It is amazing what you can find out there for your bike, at reasonable prices, to not only give you a unique look but to also support small hometown sellers on Etsy.