The past few weeks have been fraught with long work days, early starts, late finishes, and minimal riding. Red Chameleon and I last hit the road this past Sunday but had to cut the ride short due to precipitation. I have really been yearning for some time off the grid, and finally got an opportunity to take some vacation. Instead of just chilling at home, we headed up to Kamikochi in Nagano to finally conquer a long desired hike, and it was a complete blast.
I have previously written briefly about Kamikochi. As a refresher, the area is famous for luscious views of the Northern Alps in Japan, ice blue water running through the river, and many easily accessible sights on relatively easy walking paths. It is also famous as the starting point for hiking into the Northern Alps via Karasawa - what is pictured in the above featured image. Once you hit Karasawa, there are a whole host of mountain summits to tackle, assuming you have not only the endurance and stamina, but can afford to be away from work for that long.
Our goal was just to visit Karasawa and stay overnight at a small lodge, hoping to snap a picture of the morning sunrise as it reflects on the mountains. This results in either nothing special, as pictured, or if you are lucky, a unique pink or organge tint to the moutain. We were not fortunate enough to capture such beauty, but nonetheless did enjoy the views and the fresh mountainous air.
Travel Options
There are a few ways to tackle Kamikochi. The most important thing to note is personal vehicles are not allowed into the National Park. There is a huge parking lot about 30-40 minutes out from Kamikochi, with a bus running between the two every 30 minutes throughout the day. This leaves the options as:
Drive to the Sawada Parking Lot, and take the bus into Kamikochi
Take the train to Matsumoto Station, and then a local bus to Sawada Parking Lot, and then a final bus into Kamikochi
Take a direct bus from Tokyo into Kamikochi
These are not the only options but are the most practical. Each have their pros and cons. Personally, I did not want to leave my car parked and unattended for two nights. Not that I need to worry in Japan, but it is still not something I like to do, especially if there are options.
I chose option number three. There is a direct bus from Shinjuku Bus Terminal to Kamikochi. It leaves at 7:15am, and takes approximately 5.5 hours before arriving at the famed destination. The bus does stop at two strategically located rest areas, both with many quick dining options, and even a Starbucks to fill those caffeine desires.
The nice thing about the direct bus is you just get on the bus, sit your ass down, and do not have to think about anything else. There is no worrying about making a connection, no paying attention to stops, nothing.
This is even better on the way home, when you are utterly exhausted after exerting all that energy to descend from the mountain. Hop on the bus, sit down, pass out, and magically you are in Shinjuku. Well, our trip was not quite like that, but it certainly is an option.
Travel Plan
Once I answered the "how are we going to get there?" question, I was now able to devise the full trip plan. It is impractical to start hiking towards Karasawa upon arriving in Kamikochi in the early afternoon. There is roughly six hours of hiking required, and while doable, I was more concerned with safety than expediency. Hiking in the dark, on an unknown and fairly treacherous route, is not smart. This made it even easier to concoct the hiking strategy.
Day 1: Take the direct bus, arrive in Kamikochi, and stay overnight at a local hotel
Day 2: Wake up early, grab a quick breakfast, and start hiking no later than 8am
Day 3: Wake up early once again, catch the sunrise, grab a quick breakfast, and start hiking down. Once reaching Kamikochi proper, visit an onsen for a nice hot bath and to clean all the nastiness off the body before taking a direct bus back to Tokyo
This extra day allowed us to spend time exploring local Kamikochi sights. We would be able to get a good nights sleep before starting a long day of hiking, something extremely important to maintain endurance and stamina.
There are quite a few hotel options in Kamikochi. After much research and deliberation, I opted for Hotel Lemeiester as a fallback after my first choice was fully booked. It turns out we got really luck with this choice. The room was fairly standard, but the staff were extremely nice, and the surprise dinner we enjoyed was utterly amazing.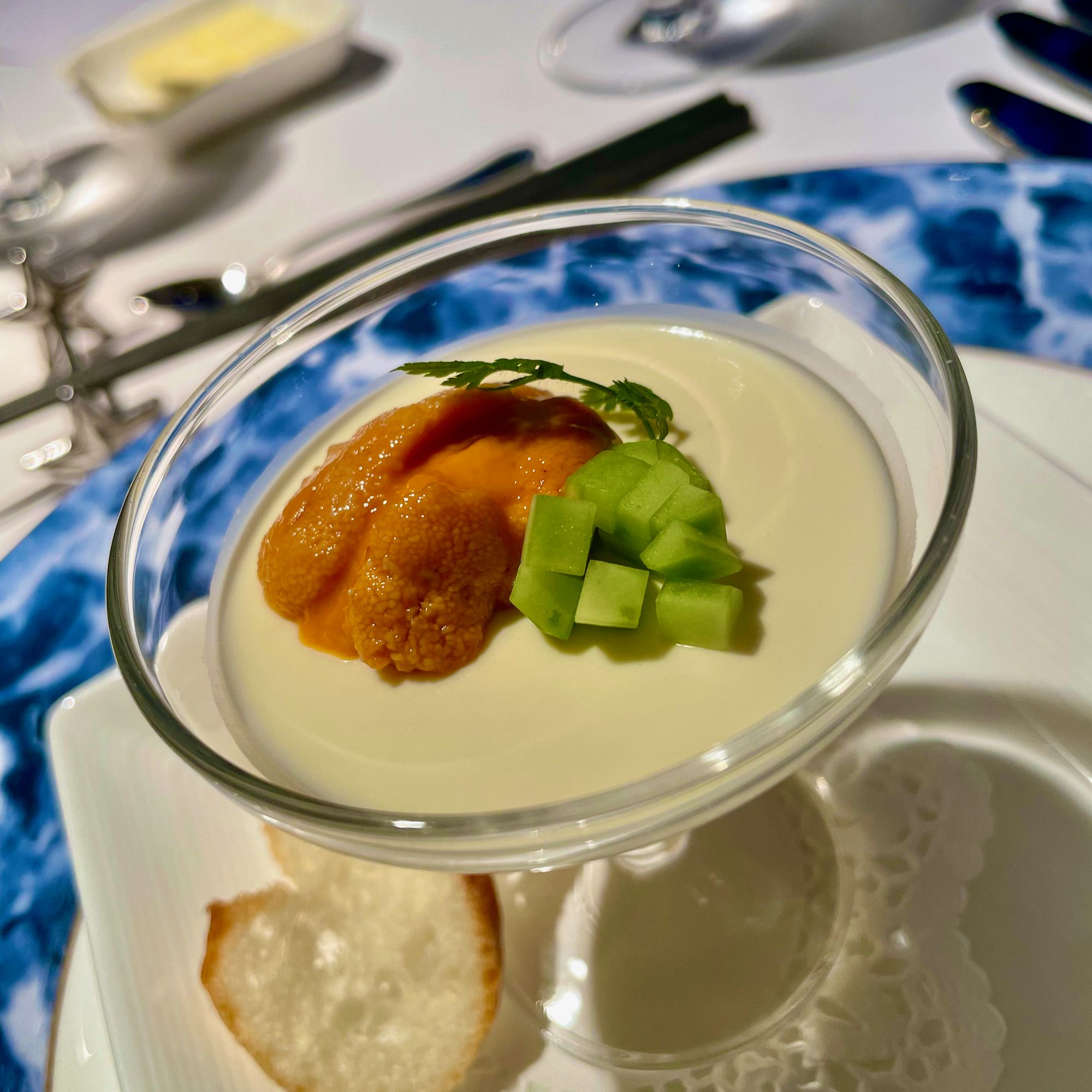 This meal was completely unexpected. I did consciously select a wine tasting course, but had no idea the full meal would be this marvelous. It was out of this world good, and served as a ton of valuable nutrition before our hike.
The one drawback to the hotel is it is about a 20-minute walk to the famed Kappa Bridge, which essentially serves as the centerpiece of Kamikochi. We were completely okay with the extra walking required seeing as one of our goals was fresh air and exercise. Some folks may prefer to be closer to the ostensible action.
Once we arrived in Kamikochi, and checked-in to the hotel, we immediately headed out for some much needed exploration. The weather was absolutely beautiful, allowing us to enjoy some really pretty views of the river with the Northern Alps serving as the backdrop. What really struck us was the water color. It was painted in a remarkably clear blue. You could easily see right through the water.
We walked back to Kappa Bridge to take a look at the main area. The bridge has the beautiful Northern Alps perfectly framed in the background. There are a few shops and restaurants worth checking out. The area is famous for apples, so we partook in some really delicious apple pie before venturing out towards some of the local sights.
The shops were fun but we did not come all this way just to look at trinkets and souvenirs. Once we vacuumed up the apple pie, we headed out to Taisho Pond. The route there was through luscious greenery and was stunning. The pond itself was nothing overly exciting. The water was barely visible, covered up by growing brown brush. Nevertheless the full 6km walk was a fun way to prep for the hike and a great start to the trip.
Upon finishing our exploration, we headed back to the hotel to relax for about 30 minutes. We then headed downstairs to dinner, where we enjoyed the aforementioned surprsing and amazing meal. This was the perfect end to our first day in Kamikochi. Now it was time to get some sleep before our big first day of hiking.
Hike Day 1
We woke up quite early and packed up our backpacks to prepare for day one of hiking. Breakfast turned out to be a nice array of local, Japanese, and Western food. We ate enough to provide us with energy to easily get us to the halfway point of the hike, where we would likely stop and refuel.
Our goal was to reach Karasawa Hyütte, a lodge offering overnight stays and a meal, no later than 3pm. The hike from Kamikochi to Karasawa is roughly six hours, depending on how fast you hike. This does not take into account any bathroom breaks, stops for food, and the countless pauses required to snap the much needed pictures required for recording the trip.
There are a number of legs to the hike to make it easier to swallow, psychologically speaking. It basically goes as follows:
Leg 1: Hotel to Kappa Bridge - 20 mins
Leg 2: Kappa Bridge to Myojin Lodge - 60 mins
Leg 3: Myojin Lodge to Tokusawa Lodge - 60 mins
Leg 4: Tokusawa Lodge to Yokoo Sanso Lodge - 60 mins
Leg 5: Yokoo Sanso Lodge to Mototani Bridge - 60 mins
Leg 6: Mototani Bridge to Karasawa Hyütte - 120 mins
The lodge at Yokoo Sanso is the final actual location to purchase any supplies and use an actual bathroom before arriving at the lodge. It is the natural halfway point between Kamikochi and our goal. We planned to stop here and refuel before the final, grueling, three hours to reach Karasawa Hyütte.
The first three plus hours of hiking are relatively easy. The ground is essentially flat dirt, fairly wide, and surrounded by lush green mountainous vegitation. Although the river is not always in view, it is generally nearby and helps provide added ambiance. There are various inclines and declines during these legs, but they are nothing like what will be experienced during the latter half of the journey.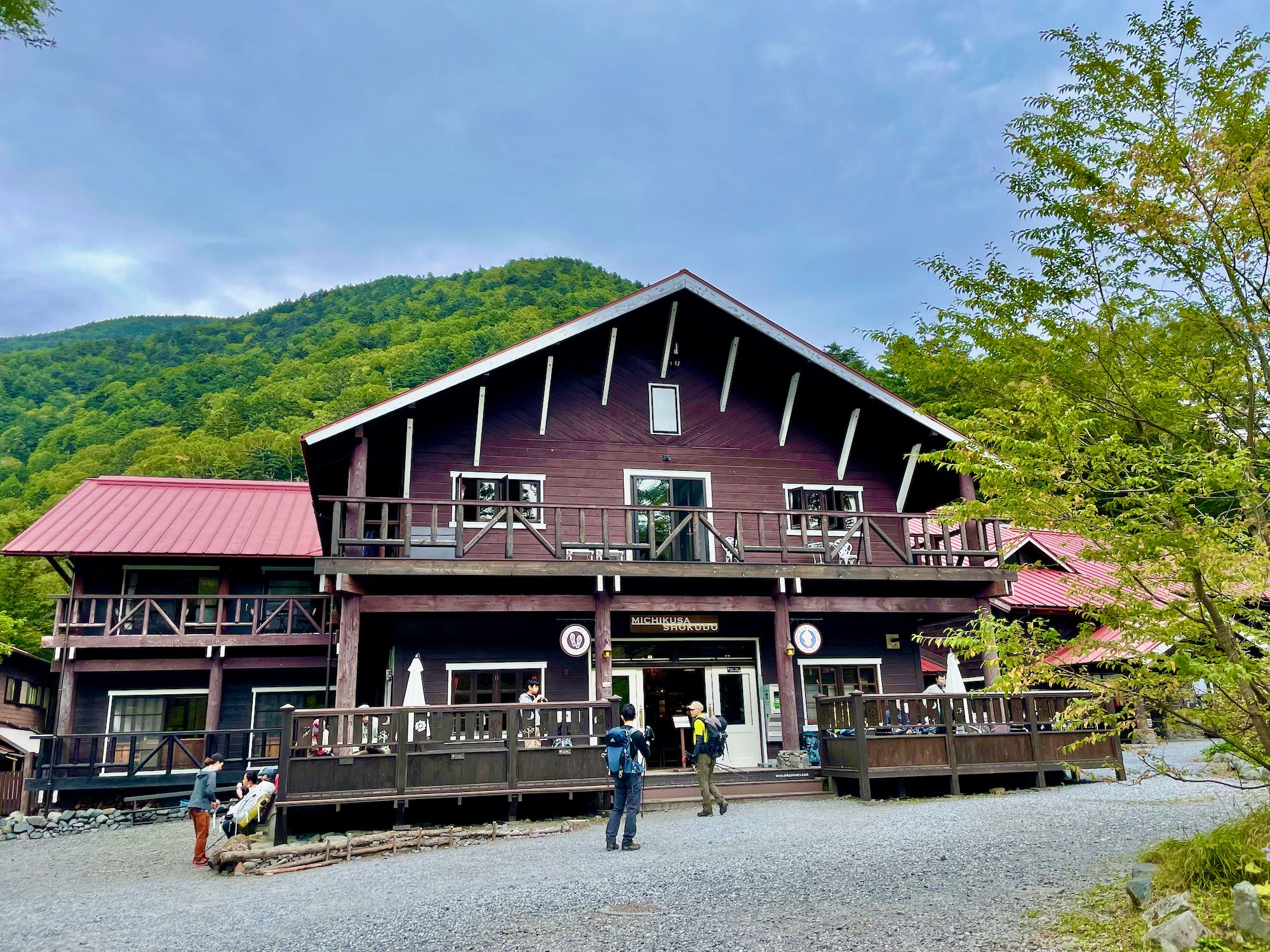 We powered through the first two hours before stopping at Tokusawa Lodge. They sell ostensibly famous vanilla soft serve ice cream. While it did taste good, I found nothing special about the ice cream. Maybe it feels famous because it is a good way to cool down during the summer heat?
The break was a nice respite before we pressed on to Yokoo Sanso. Upon arriving we headed directly towards the lodge to refuel. We ate what was affectionally called a "stamina bowl", which is basically a ton of protein and carbs. It is essentially gyudon, also known as a beef bowl. Considering how remote this location is, the meal was actually quite tasty.
We swiftly swallowed the sustenance and started on the latter, more grueling half of today's journey. The first twenty-ish minutes of leg 5 were fairly similar to what we had been hiking until, all of a sudden, we hit the spot where the real hiking begins. It started with a set of rock stairs, and that was essentially the hike for the remainder of this leg. The total distance to cover during this sixty minute leg is roughly 2.8km, the vast majority of which is uphill on a dirt trail combined with rock stairs.
The final leg was brutal. Although only 2.4km, it is completely uphill and requires roughly two hours to complete. This leg follows the side of mountain the entire duration. It is a makeshift path formed solely with rocks coupled with periodic dirt trail breaks. It is completely uphill, very tiring, and poorly marked. The height between rock stairs is random. If you hike without a hiking stick you will burn out very quickly. In the grand scheme of things, the ascent is actually not all that difficult.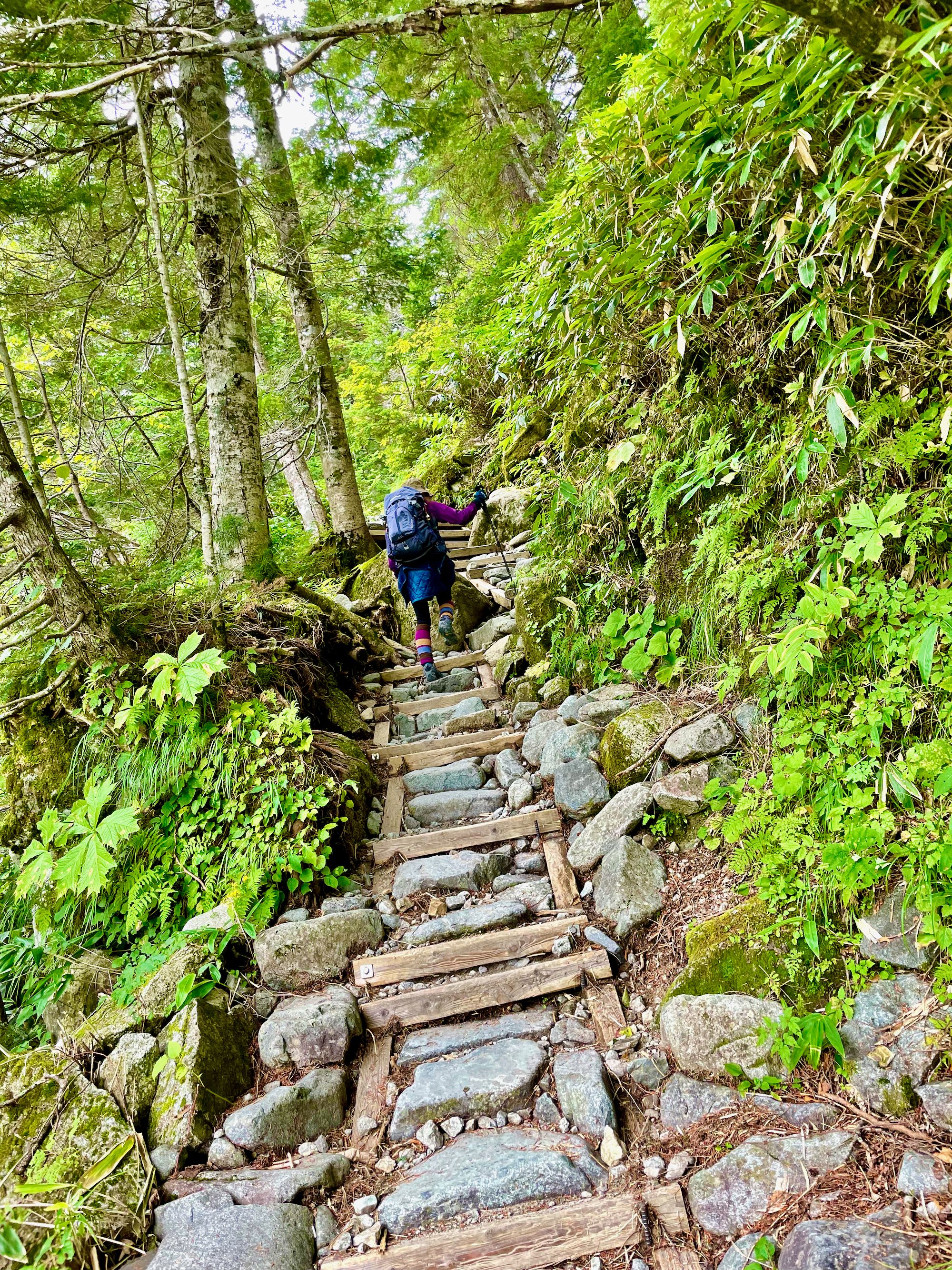 After all the arduous work to reach the lodge, we arrived at around 3:30pm. We were completely spent but somehow got a second wind once we realized we had reached our final destination. The lodge check-in process was fairly quick and painless. We dropped our packs off in our "room" and headed upstairs to the deck to snap some pictures.
The entire day one adventure started just before 8am and ended with our accession to the lodge at 3:30pm. This was roughly 7.5 hours of total travel time. It felt amazing to have finally hit our desired target.
The air was noticeably cooler at this altitude, roughly 2310 meters above sea level. I needed to break out some fleece to keep warm while standing outside taking pictures of the Northern Alps. Although the sun was starting to set, the view was utterly breathtaking. This made the hard work all the more worthwhile.
Even though the lodge serves meals, dinner was nothing to celebrate. It was literally just sustenance. We quickly ate our meal and went back outside for more fresh air and to see if we could get some Milky Way views. Unfortunately the cloud cover prevented us from seeing the stars. At this point we made our way back inside the lodge, hit our futons, and drifted off to sleep around 8pm.
---
Hike Day 2
There are no real walls seperating visitors. When one person moves, the entire floor can hear the creaks from the tired, old wood screaming in pain. The lodge is made of aged and dilapidated wood. The floors are often not even level, warped after years of abuse from not only hikers but the rough terrain.
I first started hearing movement from other visitors around 4am. These were likely the early risers who were planning to go even higher and deeper into the Northern Alps. We awoke at 4:45am, and quickly headed outside to try to catch the famed "morgan road" supposedly hitting around 5:25am. We sat on the upper deck eating an early breakfast bento while watching the sun rise from behind.
Sadly the acclaimed colorful mountain overlay never arrived as anticipated. We ended up shoving off just before 6am to make our way down the mountain.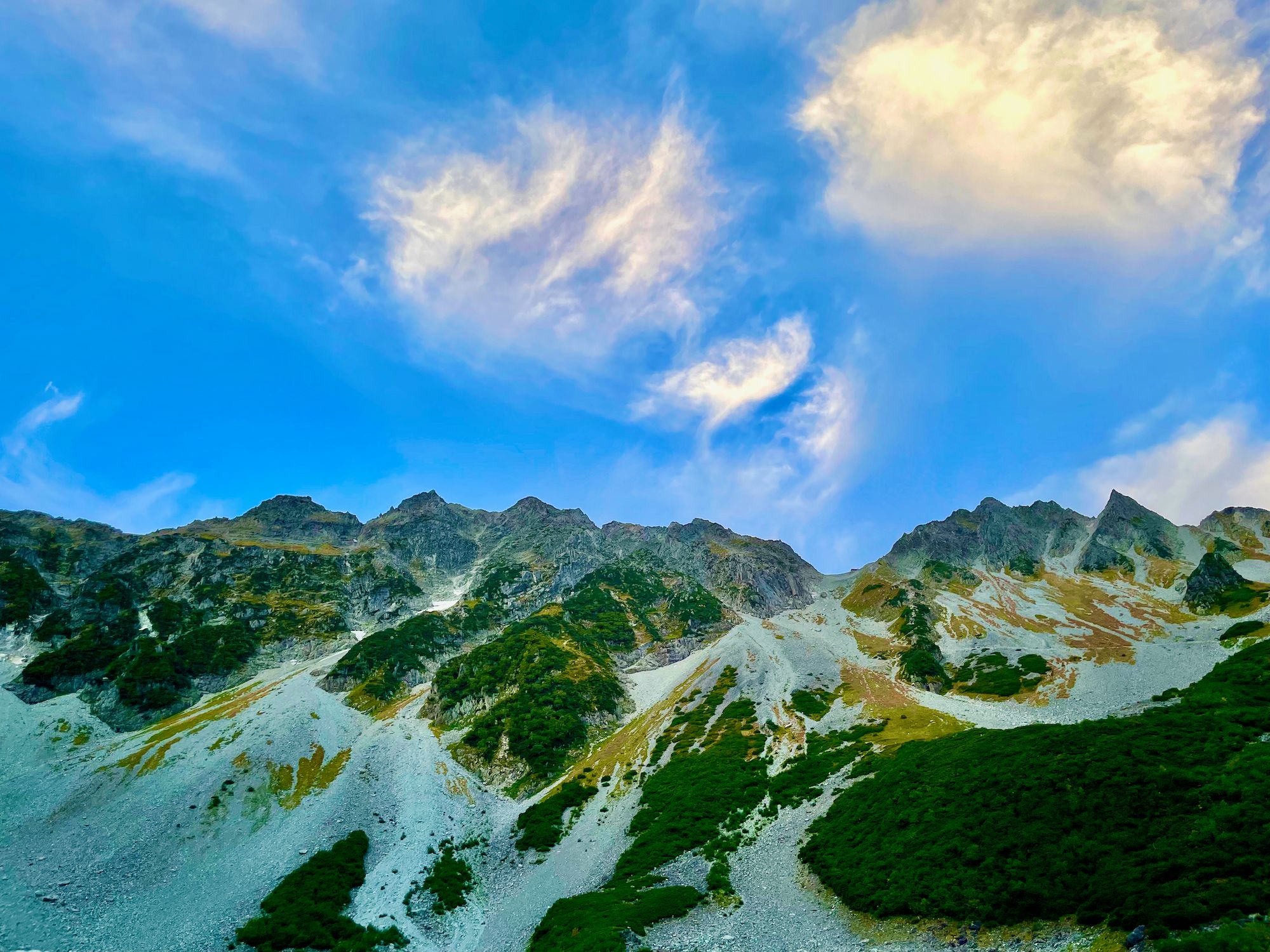 Our return bus was scheduled to depart Kamikochi Bus Terminal at 3pm, and we wanted to hit an onsen before the ride home. We had not been able to shower at the lodge, and knew we would be sweating all hike back. We really needed a shower before getting in a confined space with other humans. To pull this off we needed to make it back to Kamikochi by noon.
The first two hours of the hike back is completely downhill. The uneven rock-formed stairs are a formidable opponent when carrying a 10kg+ backpack. The first hour went by in the blink of an eye but the latter proved to be tough for me. Although I do a lot of cycling, I do not have the strongest legs in the context of holding weight. The violence my quads, calves, and knees endured during the descent was tough. I remember stopping at one point, both legs shaking in exhaustion.
I did not let the pain prevent progress, pushing forward and concentrating towards the goal of reaching Mototani Bridge. We ended up reaching this landmark at about the 90 minute mark, making excellent progress through arguably the most difficult segment of the entire trip. My legs needed a rest, so we sat next to the river while overlooking the bridge, drinking some water and eating some trail mix to power up for the remainder of the hike.
We made quick work of the segment from Mototani Bridge to Yokoo Sanso Lodge, arriving in about 45 minutes rather than the expected hour. We briefly stopped to use the bathroom and then pressed on towards Tokusawa Lodge where we once again stopped. This break was primarily to purchase some of their "coffee ice cream" which was really vanilla soft cream served in a cup with coffee poured atop, almost affogato-like.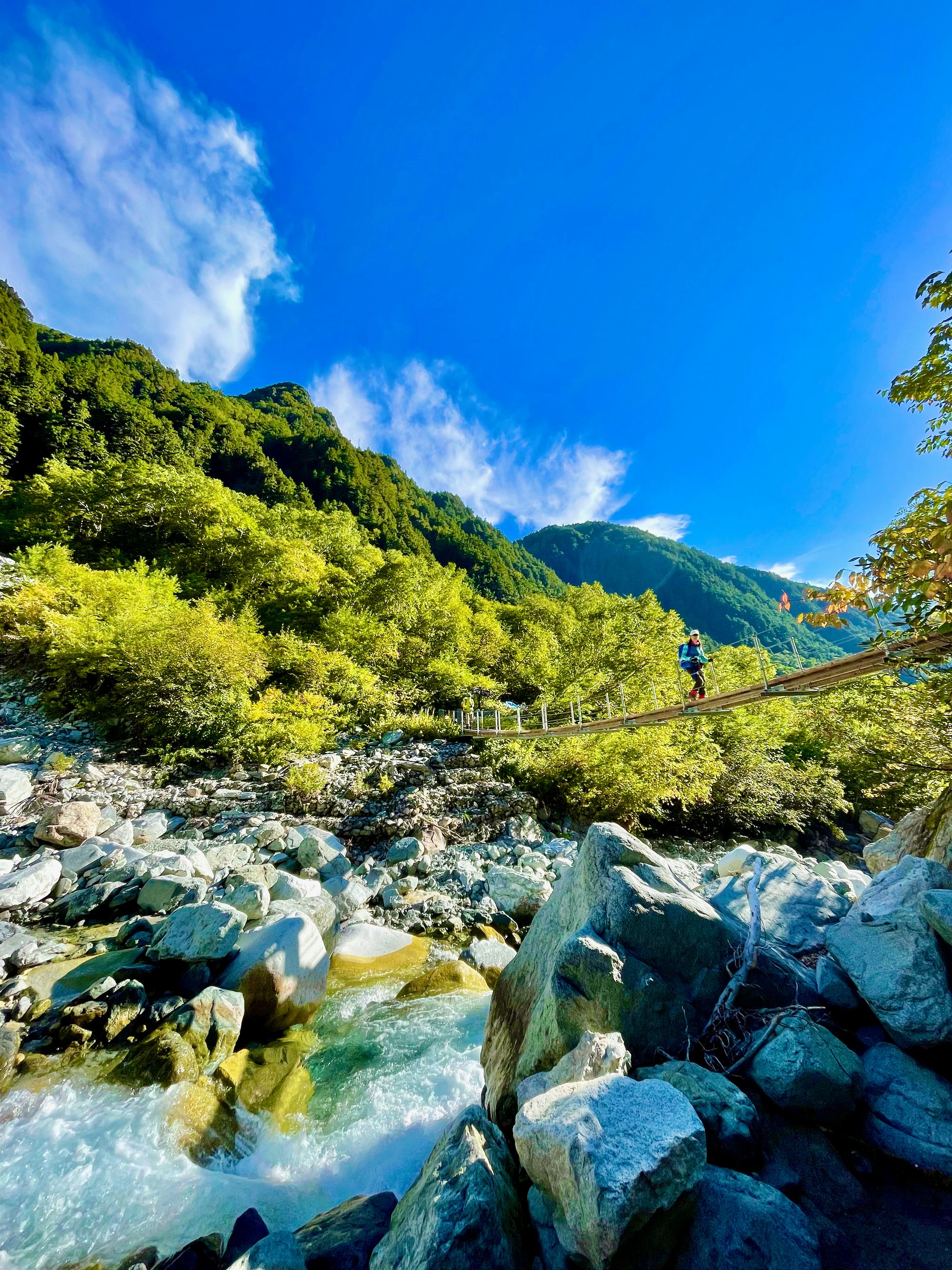 The Tokusawa Lodge break was brief. We quickly finished up the ice cream before starting on the latter half of the hike back to Kamikochi. We had thus far traveled over half the required distance in just about three hours. This was working well into our favor, and if all continued as executed we would have no trouble hitting an onsen before departing for Tokyo.
We shredded through the Tokusawa to Myojin, and Myojin to Kappa Bridge legs in about 40 minutes each, reaching main Kamikochi in outstanding time. As we were hiking back, we had discussed which hotel to use for our onsen, deciding to return to the hotel where we had stayed on our first night. The hot springs there were quaint yet comfortable, and would suffice for our rather simplistic needs.
Generally, day-use of an onsen has a price. Since we had stayed at the hotel just two nights previous they allowed us to use the facilities at no cost. We were really surprised at such kindness. I cannot adequately express my extreme gratitude for the very gracious attitude of the Hotel Lemeiester staff.
Once we finished thanking the staff, we quickly walked to the separate bathing areas to take care of business. Soaking in the hot water felt amazing, and was the pefect remedy for my fatigued body. I usually do not soak for too long but today was different. My body was yearning for the healing power the natural hot spring water was offering.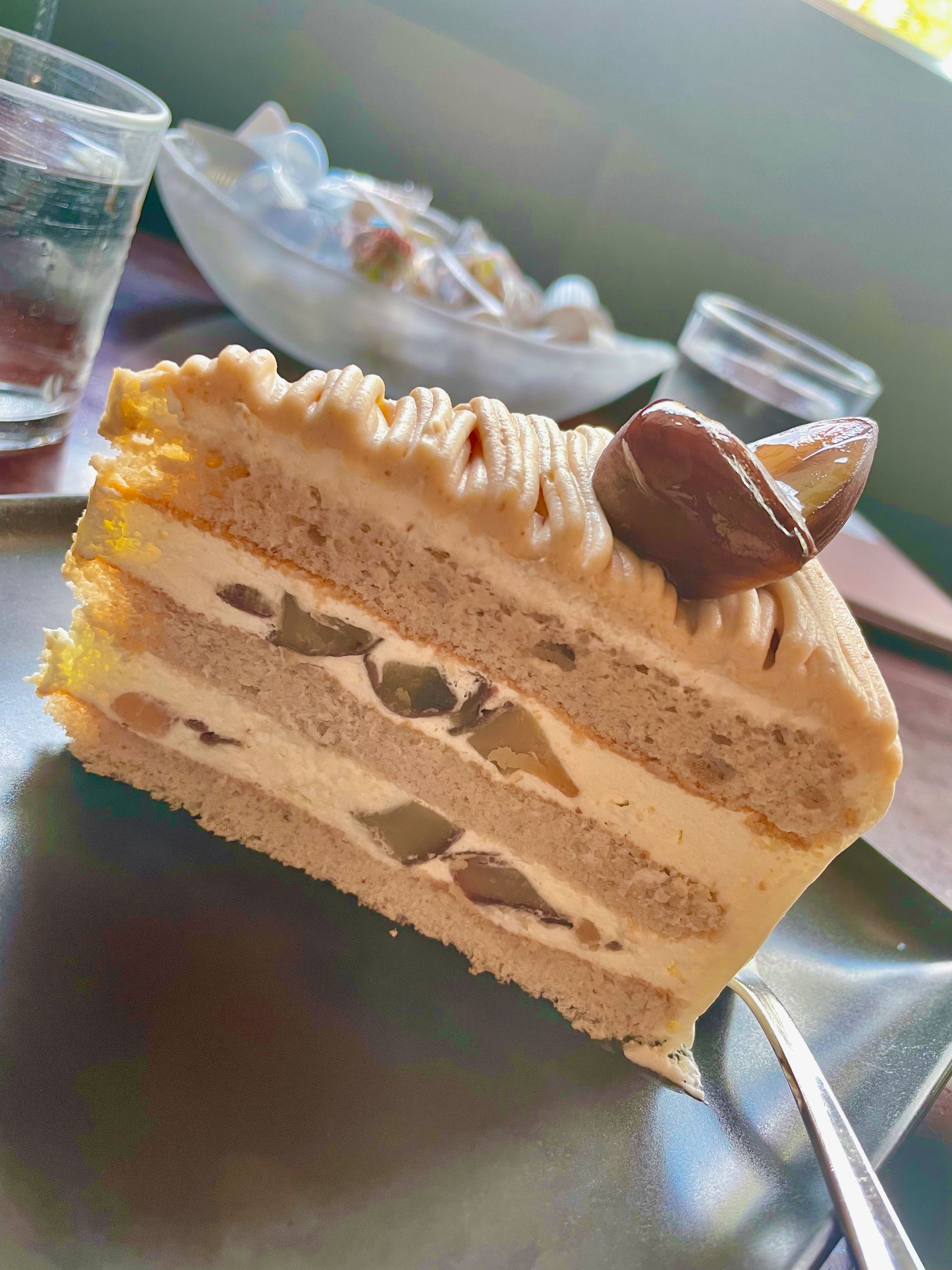 It took us about a full hour to finish resting and cleaning our very dirty bodies. We then walked back to the Kappa Bridge area for a final meal in Kamikochi. I drank an ice cold beer, which words cannot express how incredible it tasted. There is nothing quite like drinking a beer while overlooking the natural beauty behind the Kappa Bridge.
We wanted to finish the trip with something nice and sweet, so walked next door to order some dessert. I ate a piece of chestnut cake and had a nice hot chocolate to drink. It was the perfect ending to a fabulous vacation.
The bus terminal was only a mere ten minute walk from the Kappa Bridge. We easily arrived on time, and embarked at 3pm when the driver called for passengers to take their seats. The ride home was extremely uneventful and free from any traffic. I slept for about an hour but spent most of the ride home reading news, checking out my pictures, and just enjoying what we had accomplished.
---
Conclusion
This article is almost at the 3000-word mark, and that alone should explain why it took so long to finish writing and publishing it. I wanted to take care in ensuring I accurately documented the trip, just in case others interested in hiking Kamikochi to Karasawa run across the post.
The day after returning home I was damn near unable to walk. The stress on my legs from that first downhill leg was hell on my body. My quads and calves were in supreme pain. It took a few days before I was able to walk normally, although I am still hurting today. As a result, I wanted to give my legs a rest and thus have not yet gotten back into cycling.
Wednesday morning I plan to get back on Red Chameleon and restart my cycling regimen. The lack of movement, and horrible diet over the last ten plus days has not been kind to me. I gained roughly two unnecessary kilograms due to lack of exercise and terrible dieting. Now that I have been able to unplug and relax, it is time to refocus and get back into the game.
No more junky food. Time to chill on the bread, even on the weekends. Need to relax the wine drinking. Most of all, back to my original plan of no sugary foods. This is imperative for getting back into shape.
One thing this trip taught me is I need to strengthen my legs. I expected my back to be in more pain after carrying a 10kg backpack for 6+ hours two days in a row. Interestingly enough, my back was fine while my legs were destroyed. Time to start doing a bit more weight training to firm up them legs.
Since we thoroughly enjoyed hiking, and miss our previous adventures, we agreed to do one hike a month. The pups will need to hang out overnight at the local pet hotel, but they enjoy the socialization so it will be a win-win. The extra hikes will serve to bolster my weak legs while allowing us to enjoy the fresh air. Winter is coming, which means less cloudy days, and therefore better views of the magnificent Japanese Alps and even Mount Fuji.
Autumn is upon us, and this is the perfect time to get back into cycling on a more regular basis. Enjoy the weather and have an awesome rest of the week.
Peace out!