This morning the climate was finally nowhere near as insufferable as it has been in recent days. The more temperate morning made for an enjoyable Sunday metric half century ride. In spite of still feeling relatively weak, I was able to maintain pace, just not the speed and cadence I prefer. Nevertheless, this was a refreshing conclusion to a merciless week.
Like yesterday, when I woke at 4am I stayed in bed contemplating various excuses for not riding. I was expecting the temperature to be hot and the humidity high, and this is what was giving me pause. Even though it may be uncomfortable outside, I quickly dismissed those thoughts and decided exercise rather than sleep was more meaningful.
When the front door slammed shut behind me at 4:45am this morning I was pleasantly surprised. The air was as still as some far tropical sea where no winds murmur nor waves crash against the lonely shore. The temperature was a balmy 26c, but did not actually feel like it was 26c. The humidity was unusually lower than recent days. Overall, today's conditions were fairly appealing for a dawn ride.
I quickly cleaned my sunglasses, pumped air into both tires, and hopped on Red Chameleon and started to make my way towards the Tamagawa. It was a relatively tranquil morning, somewhat comfortable weather, and even a slight breeze. I was quite happy with the way the day has begun, hoping the entire ride would be just as pleasurable.
---
It took me a mere eight minutes to get to my first checkpoint, where I snapped a quick picture and started my podcast playlist. I had two goals for today. First of all, I wanted to maintain some semblance of pace throughout the whole 50k, no matter whether it was low or high velocity. Second was to get deep into the latter part of the current podcast I have been listening to, as it gets closer towards the end of a season long storytelling arc.
Quick aside about this outstanding podcast series, In the Dark. I love to listen to true crime, and season two has been unreal. The journalism and storytelling have been unparalleled, from thorough research to one of the most compelling narratives I have ever encountered in a podcast. In fact, a lot of what the journalists uncovered during their investigations had assisted the defense's case.
If you enjoy true crime, in particular stories about small town justice, this is the premier podcast. The non-fiction accounts throughout the two published seasons of In the Dark have been amazing, and have helped take my mind off the pain from cycling. Totally recommended!
---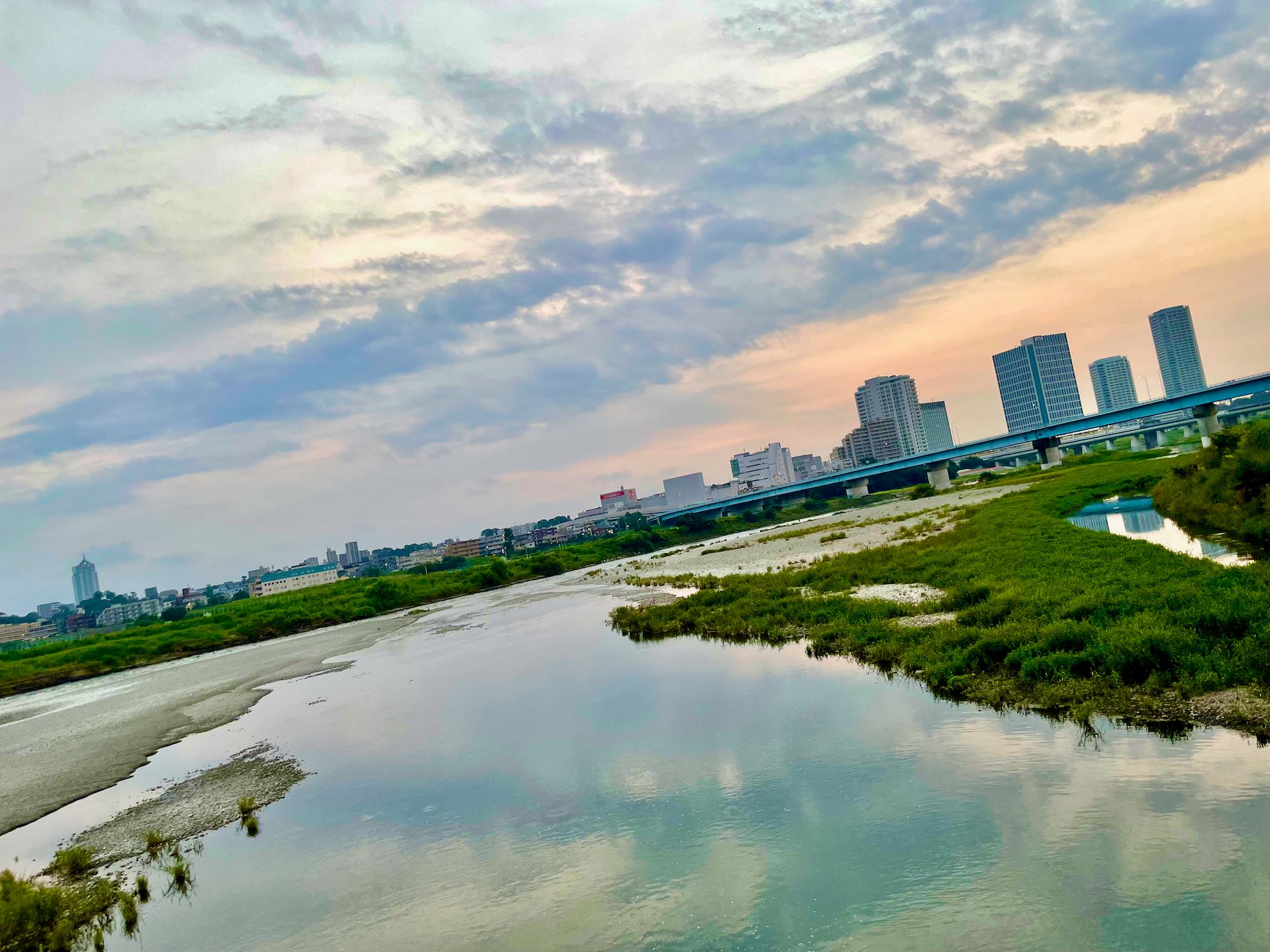 I put my head down and focused on my cycling. In contrast to yesterday, there was almost no traffic on the Tamagawa Cycling Road this morning. Despite my legs not as strong as I would prefer, I was able to maintain a 25kph-ish pace. This is about 2kph lower than I aim for on the first 25k.
Today I was unconcerned about the speed. My intention was to maintain almost any pace within reason. What I did not want happening this morning was a range of pace. This would point to me struggling rather than appearing comfortable on Red Chameleon.
Much like the past few rides, the first half was pretty uneventful. The lack of traffic and the moderately maintained pace was pleasing. Today's climate was still comfortable and that was helping keep my spirits high. I was also not tiring out as quickly as I had been.
When I hit the 25k mark I paused as usual. I reached back into my middle jersey pocket, only to realize I accidentally left my gel packs at home. Although I did not need the fuel, it would have been nice to consume some additional energy to help with the ride home. I ended up drinking more to make up for the loss of the extra power derived from the gel packs.
The ride back home was pretty standard, although slower than I wanted. I never felt like I was hitting my full potential, rarely maintaining speeds above 30kph. I primarily rode around 28.5k-30kph for the full 25k. On the return trip I encountered only light traffic. This was a nice change. Not having to worry about any stop-and-go nonsense, and little vehicular traffic on the surface streets made for a far more enjoyable ride.
Overall, another pretty unremarkable yet pleasing ride. I wish the sky were blue rather than covered in a thick layer of dark overcast. That would have made for nicer pictures and a much for fun experience. Nevertheless, it was still a nice way to end the week before what looks to be five straight days of rain according to the weather forecast. Hopefully there will not be a week straight of precipitation. September usually does see higher amounts of rain than August so this is not out of the realm of possibility.
---
We are planning to go on a overnight hike in mid-September to an area in Nagano called Kamikochi. It is something I have been wanting to do for years. Every time we have made plans in the past to go hiking in Kamokochi we had to cancel thanks to an impending typhoon. I am hoping this does not happen yet again this year.
All this cycling and use of my legs, as well as being in much better shape overall, will hopefully have a positive effect on my ability to hike the many hours required to get to the lodge we will stay at overnight. I am really jazzed about this trip and look forward to finally getting to tackle this fabled hiking course.
Today is the final day of the weekend. In preparation for the upcoming hike, I need to find some new hiking boots and some other odds and ends prior to departure. We will be heading to a local shopping center to see what we can find, and maybe even grab a nice early dinner before heading back home to give the pups a long walk when the weather is not so hot.
Whatever you do for the rest of the weekend I hope you enjoy yourself. Make sure to get some rest and relaxation, and unplug from the internet to maintain a veneer of sanity.
Peace out.